You are God's treasured possession! He takes great delight in you because of who you are. You are His creation. You didn't merely result from your parents' choice. Divine foresight designed you to achieve divine purpose.
Believing in God's love isn't always easy. Our suffering and pain often fill us with doubt about God's love for us. So, my wife, Delores, and I founded Comfort and Encouragement Ministries to help people believe in the love of God when they don't feel the love of God. Job 16:5 beautifully describes our desire: "But my mouth would encourage you; comfort from my lips would bring you relief."
May this website inspire you with fresh faith in God's commitment to making you successful. "'Though the mountains be shaken and the hills be removed, yet my unfailing love for you will not be shaken, nor my covenant of peace be removed,' says the Lord," Isaiah 54:10.
In Jesus' love,
James and Delores

Click the link below to watch the celebration of James's life. It was such a blessing to hear how he blessed some many people. (Note: there is a black screen for a few minutes after the reading of his obituary. Just keep on watching and the video feed returns.)
https://www.youtube.com/watch?v=_lTi7--A2j8
Featured Audio Message:
Enter your email address to subscribe and receive notifications of new posts by email.
Meet James and Delores Fields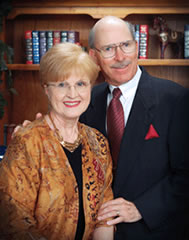 James and Delores Fields have given themselves to caring about people's welfare for over 50 years. They pastored churches for 28 years and served as missionaries for 5 1/2 years. In 1997 they founded Comfort and Encouragement Ministries. Through this organization, James and Delores conducted many marriage seminars, leadership seminars, revivals, and church services throughout the USA, Asia, and Europe. James has written many books including "Profiting From the Path of Most Resistance" and "Leaving Prayer, Entering Communion." There are over 100 Scripture Sheet titles to choose from and 40+ Audio Sermons to listen to on the "Our Gifts to You" page.