Leaving Prayer, Entering Communion
The pages of Leaving Prayer, Entering Communion suggest practical ways you can add sustainable excitement to your private time with the Lord.
You can change your prayer room into a communion chamber.
You can build a lifestyle conducive to communing with Father, Son, and Holy Spirit
You can make and keep appointments for being alone with God.
You can interact with the Spirit of the Lord.
You can free yourself for communion time by trusting God to meet all your needs.
You can make requests according to God's perfect will and in the greatest power.
Suggested Donation $5.00 each
---
Demystifying Speaking in Tongues
Find purpose in a genuine New Testament experience.
Please join me as I relate how the Lord graciously helped me demystify speaking in tongues. The release from my confusion set me free to daily communicate with the Lord in the prayer language he offers all of us. Hopefully, this book will provide you with a new appreciation for speaking to God from your human spirit.
Suggested Donation $5.00 each
---
Profiting from the Path of Most Resistance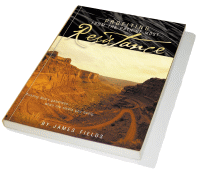 This book will help you:
Harvest the benefit of suffering.
 God designed benefit into the suffering that afflicts His people. This harvest leads us into a life of unconditional victory. Bring out the encouragement in Scripture.
Even though suffering benefits God's people, we often become discouraged and give up before harvesting the victory He intends. Scripture fortifies us with divine courage to keep going. Illustrate the love of God.

God's love for us never wavers. He only intends the best for us, whether life treats us nicely or badly, pleasantly or unpleasantly.
Stimulate appreciation of perseverance.
 Perseverance enables us to endure until we reap the benefit of suffering.
Suggested Donation $5.00 each
---
Quotebook

Each week of the year we post on Facebook several quotes from James' "Thoughts During Prayer." This booklet cites the Facebook entries month by month plus a Scripture for the month.
For your convenience the last page makes a standup easel.
Suggested Donation $6.00 each
---
Words of Comfort and Encouragement, Vol. 1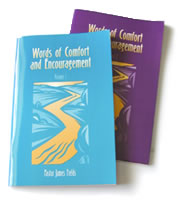 These articles sprang out of James' encounter with Isaiah 40:1. "'Comfort, comfort my people,' says your God. 'Speak tenderly to (them).'" This booklet will strengthen, comfort and encourage you for the path you are walking.
Suggested Donation $5.00 each
Words of Comfort and Encouragement, Vol. 2
This book will help you through the times when life isn't fun. These brief articles will also enable you to harvest the benefit that suffering brings. Life's difficulties, disappointments and trials motivate us to trust God unconditionally and love him wholeheartedly.
Suggested Donation $5.00 each
---
Becoming a Follower of Jesus, Course 1
Each course contains nine lessons on the basics of Christian living. It provides excellent help for mature Christians who want to disciple new Christians. These teaching outlines can serve as study guides for home groups, weeknight services and Sunday School classes.
Suggested Donation $6.00 each
Becoming a Follower of Jesus, Course 2
Each course contains nine lessons on the basics of Christian living. It provides excellent help for mature Christians who want to disciple new Christians. These teaching outlines can serve as study guides for home groups, weeknight services and Sunday School classes.
Suggested Donation $6.00 each
---
Pamphlets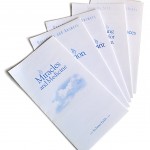 Pamphlet Titles
Bible Based Attitudes on Personal Finances
Bible Based Guidelines to Happy Dating
Miracles and Medicine
Questions and Answers The Baptism into the Holy Spirit
Questions and Answers on Salvation
Step by Step Memorizing Scripture for Meditation
Suggested Donation $.50 each
---