Comfort and Encouragement Ministries is all about building people up when they feel down, strengthening people when they feel weak and encouraging people during times of disappointment.
Therefore, we offer these three email gifts to everyone who provides us their email address:
An Uplifting Word weekly e-mail: Three verses that vivify and three statements from my thoughts during prayer journal present a very brief description of God's love for you.
An Uplifting Word for Ministers of the Gospel: One inspiring verse especially designed for ministers of the Gospel and their spouses, a single paragraph commenting on the verse and a prayer for you comprise this quickly read message of encouragement.
A monthly Scripture Sheet: After choosing a topic like God is With Us, we select ten or twelve verses scattered throughout the books of the Bible which fill you with fresh courage.
Double Honor Ministries:
Ministers. Shepherds. Men or women of the cloth. Pastors. Ministry Leaders. Their vocations benefit our spiritual growth and development. They follow a high calling and most are on call 24/7. They tend to be overworked, overly criticized, under appreciated, and underpaid. They serve and serve, and give and give, but who serves them? Who makes sure they are well—emotionally, physically, mentally and spiritually? Yes, their heavenly Father keeps them in His care, but He wants to partner with us in caring for them. Quite frankly, we believe they need a break and deserve some pampering.
Double Honor Ministries was founded to meet this critical need of our pastors. When this need is met, we will all benefit. "Our goal is to serve clergy and ministry leaders by providing a safe, refreshing, encouraging, and supportive environment." Primarily through recreational and restful retreats, Double Honor serves those in ministry in a beautiful, natural setting located on Beaver Lake in Northwest Arkansas.
Please consider supporting this ministry through prayer, giving, or by sponsoring your pastor or other ministry leader for a relaxing 3-5 day retreat.
Enter your email address to subscribe and receive notifications of new posts by email.
Meet James and Delores Fields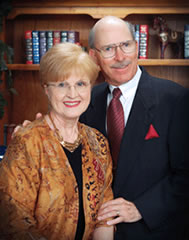 James and Delores Fields have given themselves to caring about people's welfare for over 50 years. They pastored churches for 28 years and served as missionaries for 5 1/2 years. In 1997 they founded Comfort and Encouragement Ministries. Through this organization, James and Delores conducted many marriage seminars, leadership seminars, revivals, and church services throughout the USA, Asia, and Europe. James has written many books including "Profiting From the Path of Most Resistance" and "Leaving Prayer, Entering Communion." There are over 100 Scripture Sheet titles to choose from and 40+ Audio Sermons to listen to on the "Our Gifts to You" page.