One day I asked myself, "Why not use my experiences to show ladies how to make life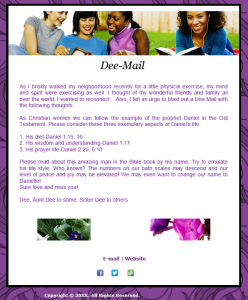 easier?" I decided periodically to send brief e-mail messages offering tips on everyday living. That's how Dee-mail came about.
So far, Dee-Mail has dealt with: goal setting, the book of Proverbs, fashion, tv guidelines, travel tips and finances. Click on a title to read previous Dee-Mails
Follow the Peace in Your Heart
Responses to Dee-Mail
"We love reading your messages. ALWAYS uplifting, encouraging, and very special in our day. Thank you for your obedience and partnering with us and others in such important ways!!"
"Hi Dee, Thank you for sharing this. Definitely a timely Word of wisdom."
"This is SUCH a cute idea. I love it. Thanks Delores!"
"I love my bonding time with the Lord! A great Dee-Mail! Thank you for writing this. :)"
Subscribe to Our Blog via Email
Enter your email address to subscribe and receive notifications of new posts by email.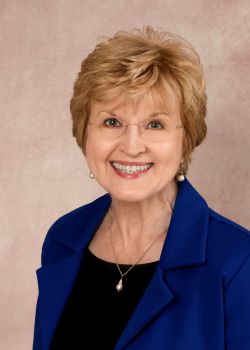 Delores spent her childhood in Greenwood, Arkansas. At age nine she received Jesus as her Savior and three years later experienced the baptism of the Holy Spirit.
While attending college she met and married James Fields. Delores has assisted her husband in pastoral ministry and missions for over forty years. She ministered in seven foreign countries, serving people from all backgrounds and traditions.
In 1997, James and Delores founded Comfort and Encouragement Ministries. In addition to traveling and speaking, she edits books and articles her husband publishes.
Through her periodic e-mail entitled Dee-Mail, Delores passes on practical tips from her life experiences. Click here to receive this inspiring Dee-Mail Delores@comfortencouragement.org.