After choosing a topic like God is With Us, we select ten or twelve verses scattered throughout the books of the Bible which fill you with fresh courage.
To receive a Scripture Sheet monthly in your e-mail box, send your e-mail address to JamesFields@comfortencouragement.org.
To download a Scripture Sheet click on the title:
The Fruit of Obeying God
Enter your email address to subscribe and receive notifications of new posts by email.
Meet James and Delores Fields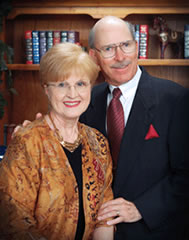 James and Delores Fields have given themselves to caring about people's welfare for over 50 years. They pastored churches for 28 years and served as missionaries for 5 1/2 years. In 1997 they founded Comfort and Encouragement Ministries. Through this organization, James and Delores conducted many marriage seminars, leadership seminars, revivals, and church services throughout the USA, Asia, and Europe. James has written many books including "Profiting From the Path of Most Resistance" and "Leaving Prayer, Entering Communion." There are over 100 Scripture Sheet titles to choose from and 40+ Audio Sermons to listen to on the "Our Gifts to You" page.