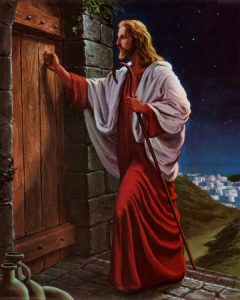 Jesus sends you an invitation to dine with him.  "I stand at the door and knock.  If anyone hears my voice and opens the door, I will go in and eat with him and he with me," Revelation 3:20.  Jesus issued this invitation to everyone in the church, his earthly body; so, you're included.
There's something really special about sharing a meal with other people.  Meal time allows us to leisurely fellowship.  We share our experiences, feelings, ideas and plans.  Others listen and then casually speak about the happenings of their day.  We laugh with one another, empathize together and feel totally unthreatened by those sitting at the table with us. Meal time opens doors of communication that remain shut during the rest of our day.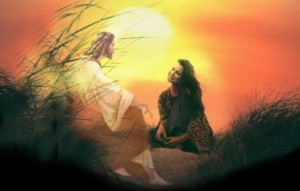 Well, that's why Jesus wants to spend meal time with you.  Not a meal of meat and potatoes, but a meal of high quality, uninterrupted fellowship.  He longs for an opportunity to just sit down with you, hear your heart and share his heart with you.  This is not a meal eaten on the run.  It's not fast food.  Jesus invites you to open your human spirit to his Holy Spirit.  He desires a free-flowing interchange of feelings that you can't put into words.  He looks forward to a private time when you can pour out your heart to him and he can pour his heart into you.  Accept his invitation.  Dine with him today.
A human spirit energized by God's Spirit frees the mind to think God's thoughts.  As a result our spirit dominates mind and body so that our appetites serve God.

We belong to the One who constantly thinks good thoughts about us.  He constantly acts in our behalf.

If we desire God's person, we must submit to his likeness.