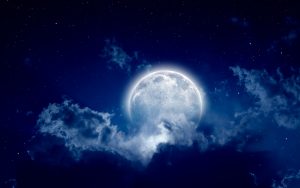 A beautiful full moon illuminated the night sky.  I could plainly see my own shadow in the grass.  As I looked up to admire Father's glorious handiwork, I noticed some clouds backlit by the shining moon.
Astonishingly, these clouds formed an almost perfect letter "V".  There I was, awestruck by Father's moon and stars.  Then, he thoughtfully threw in a "V" for victory; he provided a reminder of the victories he generously lavishes upon us.
"He holds victory in store for the upright," Proverbs 2:7. Adversity means nothing. Difficulties and disappointments never indicate that he loves us less.  Loss of something or someone dear never changes him.  He remains the same throughout eternity.  Regardless of appearances, "He holds victory in store…" for you!
Hold tightly to your expectations of victory!  Reject feelings of hopelessness and helplessness.  Our victory is not in circumstances or feelings; our victory is a Person named Jesus.  He's already been through every battle, every struggle, every heartache that attempts to rob us of our faith in the victories he gives.  Hang in there.  The victory is yours because you belong to him!
You never know what might appear in the night sky.  After all, "the heavens declare the glory of God; the skies proclaim the work of his hands," Psalm 19:1.