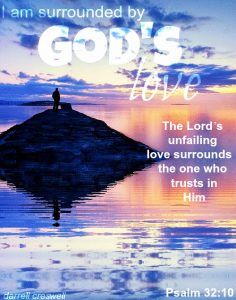 We have made it a daily habit to read a chapter of Proverbs each day and several chapters of Psalms because they are so full of wisdom and encouragement.  Psalm 138 is especially encouraging and so we thought we would just post it here for your encouragement for today!  "The Lord's unfailing love surrounds the one who trusts in him," Psalm 32:10.
1 I will praise You with my whole heart;
  Before the gods I will sing praises to You.
2 I will worship toward Your holy temple,
  And praise Your name
  For Your lovingkindness and Your truth;
  For You have magnified Your word above all Your name.
3 In the day when I cried out, You answered me,
  And made me bold with strength in my soul.
4 All the kings of the earth shall praise You, O Lord,
  When they hear the words of Your mouth.
5 Yes, they shall sing of the ways of the Lord,
  For great is the glory of the Lord.
6 Though the Lord is on high,
  Yet He regards the lowly;
  But the proud He knows from afar.
7 Though I walk in the midst of trouble, You will revive me;
  You will stretch out Your hand
  Against the wrath of my enemies,
  And Your right hand will save me.
8 The Lord will perfect that which concerns me;
  Your mercy, O Lord, endures forever;
  Do not forsake the works of Your hands.
We pray as you read this chapter that you will gain strength for your day and the days we are facing.  We encourage you to keep focused on God's Holy Word and not the chaos of the world because Jesus has overcome the world and won so will we!
Blessings,
Comfort and Encouragement Ministries