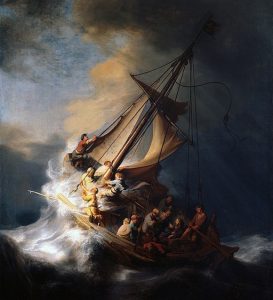 For two weeks the raging wind ceaselessly roared across the Mediterranean Sea, transforming the ocean waves into mountainous waves. The wind and waves violently beat against the ship which carried 270 crew and passengers. Every effort to save the ship from certain destruction failed and the weakened craft sank lower and lower into the water.  "We finally gave up all hope of being saved," Acts 27:20.
As despair tightened its grip upon everyone on board the doomed ship, the Apostle Paul shouted, "Keep up your courage," Acts 27:22. Suddenly, his words inspired his companions to keep struggling against opposition and adversity.  Courage is the power to keep going in face of opposition and adversity.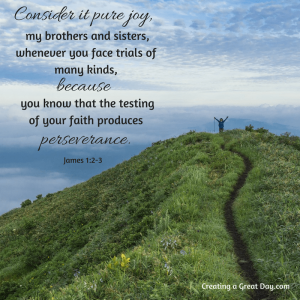 Christian friend, God never intended to isolate us from hardship and disappointment.  God allows us to struggle against adversity so that our struggle actually develops our spiritual muscles.  "Consider it pure joy…whenever you face trials of many kinds, because you know that the testing of your faith produces perseverance," James 1:2-3. We rejoice in our sufferings, because we know that suffering produces perseverance.  When prayer does not rescue you from life's difficulties, keep up your courage by praising God for victory even when surrounded by storms of life.
The Lord's command to Joshua applies to all God's children.  God ordered Joshua, "Be strong and courageous…Be strong and very courageous…Do not be terrified or discouraged for the Lord your God is with you wherever you go," Deuteronomy 31:6. Quit trying to explain life and concentrate on keeping up your courage.  Live by God's promises and forget about human explanations of life's problems.
We choose to be courageous!  By faith in God we press on in our Christian life and service.  Remember 2 Chronicles 15:7, "As for you, be strong and do not give up."
Be greatly encouraged,
Pastor James Fields