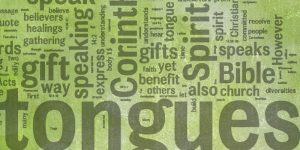 We can't read the Book of Acts and avoid the subject of speaking in tongues.  The word tongues means languages.  Basically, the Holy Spirit's powerful presence enabled Jesus' followers to speak to God in languages they had never learned.
Acts 2:4 shows 120 followers of Jesus filled with the Holy Spirit and speaking in tongues.
Acts Chapter 10 records Peter's ministry to a group of non-Christians in Cornelius's home (See Acts 10:46.) These people received Jesus as their personal Savior and then spoke in tongues when the Holy Spirit came upon them.
Then we read about the Apostle Paul's visit to a city in Turkey named Ephesus.  There he met twelve followers of John the Baptist who accepted Jesus as their Lord.  Subsequently, "When Paul placed hands on them, the Holy Spirit came on them, and they spoke in tongues" (Acts 19:6 NIV).
Speaking in tongues was a part of the early Christians' experience.  What's it all about? Read More→