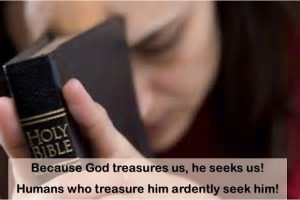 "One day Peter and John were going up to the temple at the time of prayer—at three in the afternoon," Acts 3:1.
Peter and John made an appointment with God. We call their appointment prayer. For these Christian brothers prayer time wasn't a vague religious idea. Prayer time occupied an appointment in their daily schedule. They didn't purpose to spend time with God when they got around to it. They set aside a definite portion of their day for prayer.
Why pray? Because our relationship with God grows dull and inactive when we don't spend time with him. On the other hand, when his Spirit touches our human spirit during prayer time, our relationship becomes vivified. He rekindles our love for him, our confidence in him soars, a new determination to seek him fills every particle of our person, his nearness floods our thoughts with peace and joy.
People who pursue a vivified relationship with Jesus live victorious lives in the last days.